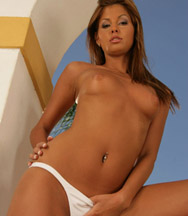 Mistress Angel here. I'm in the mood for some strap on phone sex. You too? Just as I thought. A strap on slut like you never tires of it. You crave the way my long sexy legs look as you are allowed to slide the strap on harness up them. You need to hear me laugh and ask you to really convince me you need to be pounded. You are so eager to feel me in total control while you submit and bend over still begging for what we both knwo you need. Strap on training phone sex is always interesting. I fuck you the way I like to be fucked – hard and vigorous. I won't stop until I'm done. And neither will you. Will you be allowed to cum? Maybe or maybe not. Depends on how well you take my thick black strap on cock. It depends on many things really…
I always put Anal training phone sex subs, strap on sluts and curious boys to good use. So let's see where your fetish for submission and my natural female superiority lead.
- Mistress Angel
- 1-877-882-OBEY
Domination phone sex, strap on phone sex, cuckold phone sex, humiliation phone sex and forced bi phone sex with Miss Angel a phone sex Femdom.